Duplex printing is the ability to print on both sides of a sheet of paper without manually flipping it over. This feature can save time, paper and money.
Here are the steps to make copies on both sides of the paper using a duplex printing-enabled printer:
Confirm that your printer supports duplex printing by checking the printer's specifications or consulting the printer manual.
Open the file that you want to print.
Access the print settings by going to File > Print or by using the keyboard shortcut Ctrl + P.
In the print settings dialogue box, look for an option labelled "Duplex Printing" or "Two-Sided Printing." This option may be located in the Properties or Preferences menu.
Select the duplex printing option and choose whether you want to print double-sided long-edge or short-edge binding.
Adjust any other print settings, such as the number of copies, before clicking the "Print" button.
Make sure you have enough paper in your tray before starting the printing process.
Wait for the printer to finish the first side of the document before flipping the paper over and re-inserting it into the printer to print the second side.
Once the printing process is complete, take out the paper from the printer and check for any misaligned pages or smudging.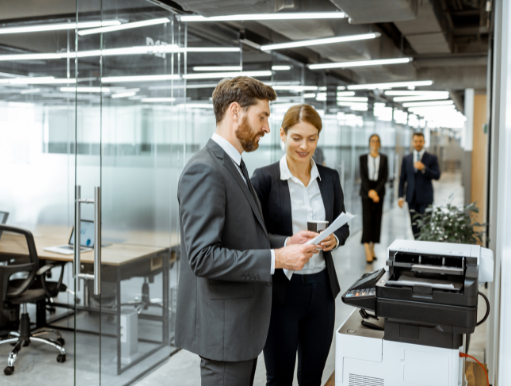 How Can Clear Choice Technical Services Help When There Is a Problem In Duplex Printing
Clear Choice Technical Services is a company that specializes in providing technical support and solutions for various types of printers, including those that support duplex printing. If you are experiencing problems with duplex printing, CCTS can help in several ways:
Troubleshooting: CCTS can help you identify and troubleshoot the problem you are experiencing with your duplex printer. They can provide guidance on how to check for paper jams, misaligned pages, ink smudging, or other issues that may be causing problems with your duplex printing.
Software support: CCTS can assist with software-related issues, such as configuring duplex printing settings or updating drivers to resolve problems with duplex printing.
Maintenance and repair: If your duplex printer is not working properly, our company can provide maintenance and repair services to get it back up and running.
Printer replacement: If the problem cannot be resolved by troubleshooting or repair, we can help you find a suitable replacement printer that supports duplex printing.
Remote support: They may also offer remote support, where their technician can remotely access your computer and diagnose the problem and fix it.
Clear Choice Technical Services can provide a wide range of solutions and support for duplex printing problems, helping to ensure that your printer is working correctly and efficiently.
CTTS Is The Solution To Your Duplex Printing Problem
If you want to give your business a boost, Clear Choice Technical Services' services will undoubtedly help. If you're ready to take it to the next level, give us a call at (412) 307-3430 right away for the best price on our products. Do not forget to visit our shop at Pittsburgh!
If you plan to get copiers for your office in Pittsburgh, you can opt to buy copiers or lease copiers in Pittsburgh. We can give you the option to get the copier that you want. You can contact our local copier leasing services department in your location.
If your Location is around Pittsburgh, you may call us at (412) 307-3430, our personnel for copier leasing in Pittsburgh will assist you. If you are also looking for copier repair services in Pittsburgh, you may contact our copier repair personnel at the same number.