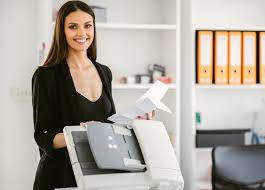 Are you looking to purchase a digital copier? If so, there are many aspects of the machine that you should consider before making your decision. The price of a digital copier can range from $500 to more than $10,000, depending on the model and features. This article will discuss some things you need to know about purchasing a digital copier by providing an overview of what they do and how they work and some tips for picking one up at the right price.
If you are in Pittsburgh and you are looking for a Copier for your business, you may contact Clear Choice Technical Services in Pittsburgh. You can ask about Copier Leasing Services in Pittsburgh, Copier rental services in Pittsburgh.
What are the features of a digital copier?
A digital copier is designed to create duplicates of documents. It's often used at work for mass copies or in the home if you want additional hard copies but doesn't have a scanner handy. They generally use toner instead of ink, which means they're more economical and last longer than traditional printers. Digital copiers can produce up to 600 pages per hour and are available as colour or black-and-white machines with prices ranging from $500 -$1500 depending on the size (page output) you need.
What are some features I should look out for?
Different models offer different benefits, so it's essential to know your needs before deciding on one. For example, do you print large amounts of copies and need a lot of pages per hour? If so, then you'll want to go with a digital copier that can produce 600 or more. On the other hand, if your needs are minimal – maybe only 20-30 copies at once -then a smaller machine is OK.
Some features worth considering are:
*Speed (how many paper sheets per minute)
*Number of input trays (if printing large jobs which require feeding on multiple places)
*Print quality/resolution
*Ink costs vs. toner costs
*Paper size capability
What is the price of a digital copier?
The price of a digital copier varies depending on the machine's different features. For example, speed (how many paper sheets per minute), number of input trays (if printing large jobs requiring feeding on multiple places), and print quality/resolution all impact how much you'll pay for your new office equipment.
Some models come with built-in card readers or fax machines; these can be either standalone devices that aren't part of the digital copier itself, or they may integrate right into the device to save space in your company.
You should also consider ink costs versus toner costs – since some laser printers use more expensive toners than their ink counterparts, it might make sense to purchase one only if you need to print a high volume of graphics or photographs.
We want to mention that some digital copier models might include software (such as scanning and faxing documents). This can be useful if you're looking for an all-in-one device, but it also means paying more upfront – so keep this in mind when making your decision!
What are some of the high-end brands for digital copiers?
– Xerox
– Epson
– Canon
– Konica Minolta
what are some of the low-end brands for digital copiers?
– Brother International, Inc.
– Kyocera Mita Corporation (KMC) – Kip's Big Adventure!® (Kids' Books and Games!) Edition Blog by Jacqui S. Cohen Smith October 17th, 2017 at 11:11 am PST Posted on September 28th, 2017 by Patrick Dolan in Internet Marketing Strategies | Comments Off on Digital Copier Pricing – What Exactly Are You Paying For? Tags: laser printer pricing | electric paper cutter prices "As with any product you buy, there is a wide variety of different digital copiers available for purchase. It can be difficult to know the best price point when looking to make this type of purchase. Experts recommend finding the best digital copier pricing to compare the cost with what you are getting in return. Brother International, Inc., for example, has two different models of this type of equipment priced at $850 and up."
Should we just buy high-end digital copiers?
"There are some digital copiers that come at a higher price point but might be worth the investment if you print more than 500 pages per month. If your printing needs don't require this type of output, then it would make sense to buy a less expensive one."
– Printing costs can eat up any savings for these machines over time (e.g., use over 50% or 100%)
– Even with lower monthly page volumes, they may still not pay off by the end of 12 months (may take longer). For example: "500 color/B&W copies are more than enough to print in a month, but if you plan to print more, it might be worth investing in one of the higher-end models"
– Considerations: "If your printing needs don't require this type of output, then it would make sense to buy a less expensive model."